Best Bed Bug Exterminator In South Florida
Bed bugs are notoriously hard to get rid of once they find their way into your south Florida home. You've probably heard the phrase, "Sleep tight; don't let the bed bugs bite." It's a cute little phrase that children often hear as they're tucked into bed at night. However, in reality, when bed bugs do invade your home, the rhyme takes on a whole new meaning.
Bed bugs are a prolific insect that can easily hitchhike into homes on clothing or other personal belongings. Once they find a suitable ride, they will infest new places, including your south Florida home. Most people pick up bed bugs in public places when they crawl onto their clothing, purse, baggage, or other belongings. Once on your personal items, they will eventually wind up in your home.
Bed Bug Control With GOTBUGSIKILL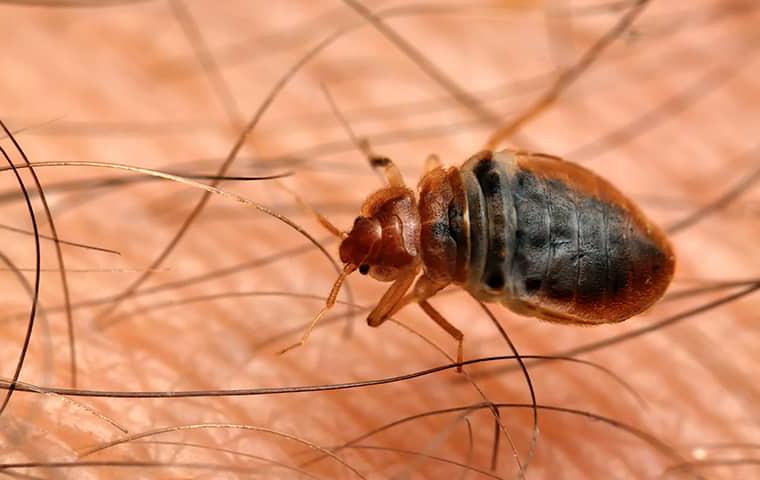 As you can imagine, bed bug infestations are more than a minor inconvenience. Though bed bugs are not particularly dangerous, dealing with them is stressful. They only cause minor physical harm to those they bite. Bed bug bites appear in linear or zig-zag patterns on the skin, and most people are alerted to their presence by the uncomfortable itching sensation that accompanies their bites. Bed bugs also cause a significant amount of anxiety and stress for homeowners with an infestation.
Dealing with bed bugs is more than challenging – it's practically impossible without help from a local pest control company. You may consider trying do-it-yourself methods, but these creatures are tenacious. Not only are they small in size, but they love hiding in hard-to-reach cracks and crevices of your home. In fact, a recently fed adult can survive up to a year without a blood meal. To completely solve a bed bug problem, you have to get rid of every single adult, nymph, and egg.
That's why we're here to help. GOTBUGSIKILL is a top-rated exterminating company that specializes in bed bug elimination. We know that no bed bug problem is exactly alike. That's why we utilize a variety of proven methods to rid your home of these unwanted critters so that you can enjoy the peace-of-mind that comes with a bed bug-free home.
Bed bugs are without a doubt the most challenging household pest to get rid of in Boca Raton and surrounding south Florida communities, which is why reaching out to the experts at the first sign of bed bug activity in your home or business is so important.
At GOTBUGSIKILL, our technicians are bed bug experts who are highly trained and knowledgeable in bed bug habits and life cycles. When you partner with us, we will go the extra mile to explain every part of our treatment protocol and how it will eliminate bed bugs from your home in just one treatment.
Multi-Tool & Multi-Mode Of Action Bed Bug Treatment Process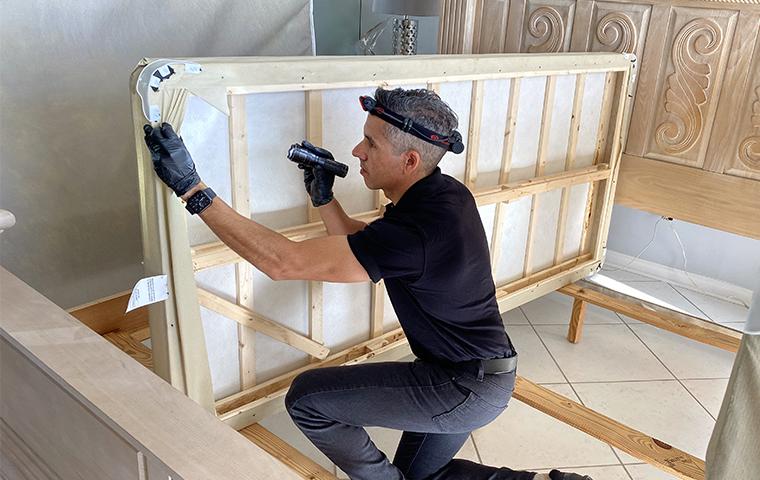 1. Inspection
To get the process started, we first perform a thorough inspection of all the areas bed bugs are commonly found, such as mattress seams, box springs, headboard and footer, bed frame, baseboards, picture frames, electrical plates, the edge of the ceiling, and every piece of furniture throughout the home. This helps us determine the areas of your home where this pest is active and where the vacuum and steamer are going to be needed the most.
After we complete the inspection and asses the infestation, we will move forward with the elimination process. We will waive the inspection fee if we start the treatment on the same day.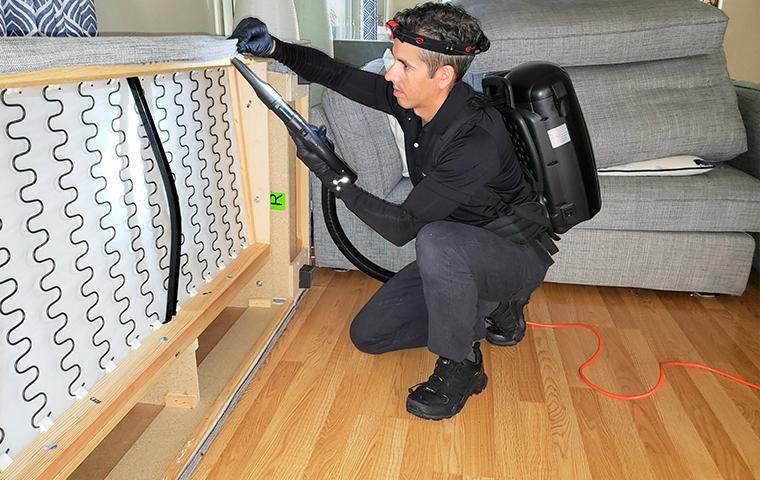 2. Treatment
Our bed bug elimination process involves two phases for complete eradication of the pest. First, we vacuum and steam. Then, we apply a series of insecticides to ensure that your bed bug problem is entirely eliminated. We care about your home and your health which is why our licensed technicians only use the highest quality products and tools when eliminating bed bugs from your home. Most importantly, our treatments are completely safe for people and pets, so you will not have to worry about jeopardizing the health of those you love.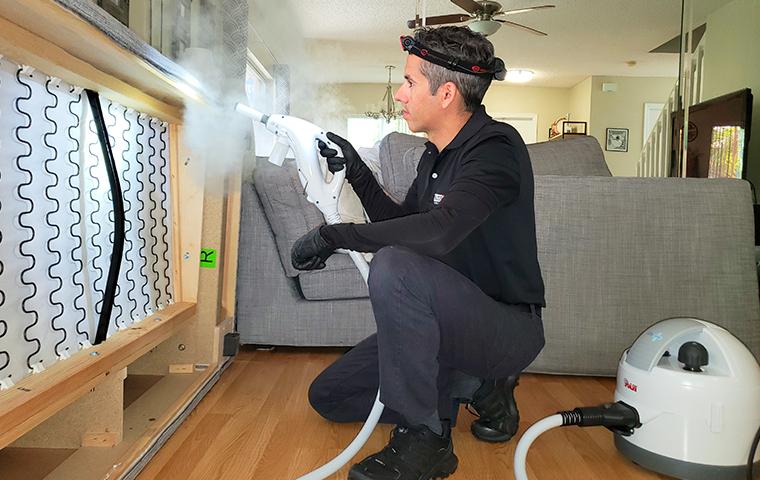 Steam Treatment
We begin by using a vacuum and a specialized bed bug steamer. The vacuum and the steamer are useful tools for cleaning up heavily infested areas. This powerful unit produces a super-heated steam that kills any bed bugs and eggs with one pass. Bed bugs cannot survive temperatures over 122 degrees Fahrenheit, and the steamer reaches a temperature of 356 degrees Fahrenheit.
Furthermore, our steamers produce enough pressure to penetrate cracks, crevices, and other hard-to-reach places where bed bugs love to hide. Whether it's your mattress, box spring, sofa, or other upholstered pieces of furniture, water vapor transfers heat deep into the fabric killing bed bugs hiding out of sight. In the end, this initial phase of the treatment will kill over 95% of bed bugs present in the home.
After vacuuming and steaming, eliminating the small number of remaining bed bugs and preventing re-infestation comes with our next phase - the chemical treatment.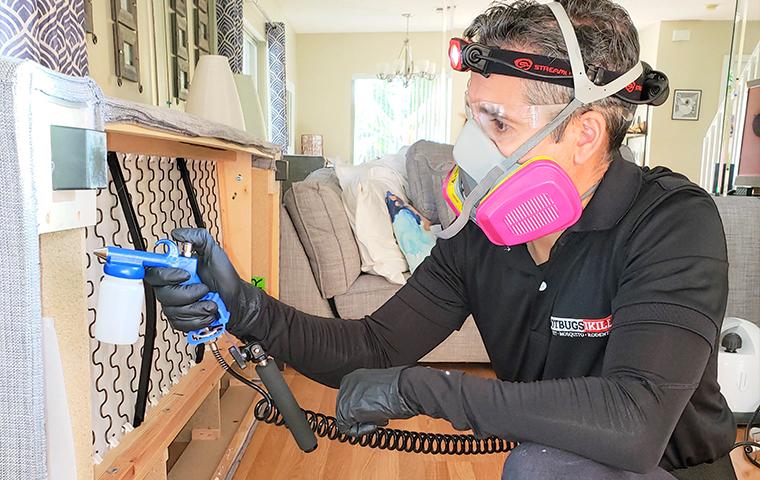 Chemical Treatments
The use of steam and vacuum are the first tools we utilize in our bed bug treatment protocol. Following the initial cleanup, our technicians will treat all hiding spots and the highways bed bugs use to find a blood meal. We know what products to use, how to apply them, and where to treat. Days later, any hidden bed bug that comes out to feed will intercept the active ingredients and die.
We use synthetic and natural insecticides that complement each other to successfully eradicate all bed bugs for good. At GOTBUGSIKILL, we use products that are safe and effective. It will not harm you, your family, or your pets – only bed bugs.
Choosing the right chemical treatment involves research and experience. In the end, we chose to use a combination of products with different modes of action to ensure that all bed bugs are eliminated for good.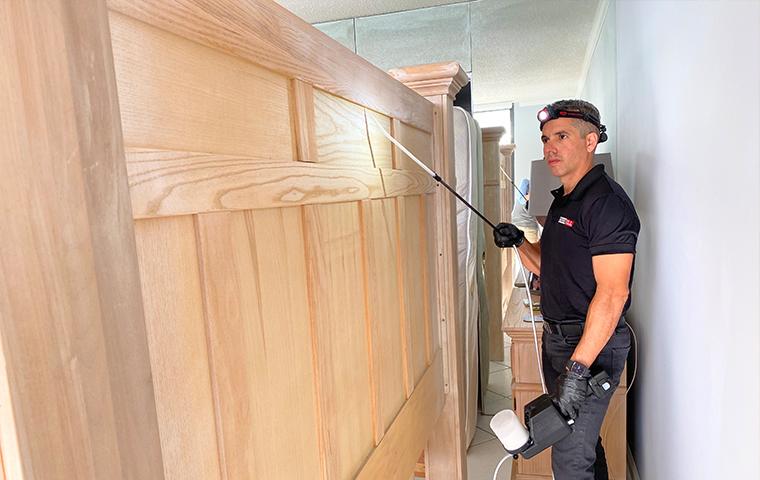 We begin by applying a desiccant dust to cracks & crevices and to various voids throughout the home. Desiccant insecticides disrupt the protective waxy coating of the insect's cuticle. When any pest comes into contact with the dust, they will begin to lose body fluids resulting in death from dehydration or desiccation. Juveniles are killed in a matter of hours, and adults may take 3 to 4 days to die. The application of dust will last for years if undisturbed.
Next, we apply two solutions. The first one targets the nervous system of the insect causing paralysis and death. The spray is also effective at killing the eggs. The second solution is a fungal spore spray. The spores attach to the cuticle of the insect and begin to colonize inside resulting in death in three to seven days
3. Follow Up
Finally, we will return after 30 days to ensure that your home is completely devoid of bed bugs. Should we find any bed bug activity, we will do a spot treatment and return two weeks later for a second follow-up inspection. We stand by our methods, and we will make sure that your bed bug problem is eliminated entirely. In south Florida, no other pest control company is as detailed as GOTBUGSIKILL.
How To Get Rid Of Bed Bugs
Steam Treatment
Bed bugs cannot survive temperatures above 120 degrees Fahrenheit. A specialized bed bug steamer reaches temperatures of over 300 degrees Fahrenheit killing bed bugs and eggs on contact. Steam also penetrates hard to reach areas in the mattress, box spring, and other furniture.
Chemical Treatment
There are a number of EPA approved insecticides registered for treating bed bugs. These products are applied to areas where bed bugs like to hide and along the pathways they use to find a blood meal.
Heat Treatment
Bed bugs cannot survive high temperatures, so heat treatments use specially designed equipment to raise the temperature of a space. Once temperatures reach 122 degrees Fahrenheit for a few hours, bed bugs and their eggs will die. Heat treatments are expensive and need to be combined with chemical treatments to be completely effective.
Rapid Freeze Treatment
Bed bugs cannot survive extreme cold temperatures. In freeze treatments, bed bugs are exposed to temperatures below 32 degrees Fahrenheit. Rapid freeze uses a pressure hose to propel dry ice solid killing the bed bugs on contact. Unlike steam treatment, this method fails to penetrate soft fabrics.
Fumigation
With fumigation, specialized companies tent the home and pump sulfuryl fluoride gas into the enclosed space. The gas molecules will penetrate hard materials such as wood. Fumigations are effectively done to eliminate drywood termites & powderpost beetles infestations. Because the gas can travel far and penetrate every single square inch of the home, it is also effective at killing bed bugs, including their eggs. After the fumigation is complete, there is no residue left behind. If bed bugs are reintroduced, they will bounce back. Fumigation treatments are very costly and require occupants to stay out of their home for two nights before returning.
90 Day Warranty
We strongly believe in the effectiveness of our bed bug treatment and guarantee that you will be 100% satisfied with our services. Our multi-tool approach with the vacuum and steamer will kill almost every single bed bug. The insecticide treatments that follow will remain active for weeks to ensure that your bed bug problem is under control and completely gone.
If you detect bed bug activity within 90 days of our treatment, GOTBUGSIKILL will return to your home and retreat, free of charge. We aim to do an effective and thorough job of eliminating bed bugs every time we treat.
Say Goodbye To Bed Bugs!
This pest doesn't stand a chance against our knowledgeable technicians and our industry-leading bed bug control process. At GOTBUGSIKILL, we know that when you detect an infestation, you want it gone as soon as possible. That's why we offer same-day availability and 24/7 service. Reach out to us for a free phone quote and ask about our financing options.
You can rest easy knowing your nights will be bed bug-free. For reliable bed bug control in Boca Raton, Coral Springs, Pompano Beach, Parkland, Deerfield Beach, Fort Lauderdale, Delray Beach, Boynton Beach, and other areas throughout south Florida, GOTBUGSIKILL pest control is the answer. Reach out to us today to get started!
Safe For Family & Pets
We understand the importance of keeping all of the members of your family safe! Because of this our treatments are 100% safe for people and their pets.
Same Day Services
We know that when you detect a pest problem, you want it serviced immediately. We provide same-day service and are available to help you with your bed bug problem 24/7.
Fully Licensed Technicians
All of our technicians have been trained and are skilled in eliminating bed bugs from every part of your home or business. Our technicians will work with you to determine the best treatment options for you.
High Quality Services
We only use treatment methods that are proven to work at eliminating bed bugs in all stages. No one wants a bed bug infestation to reoccur, which is why we offer our satisfaction guarantee!
Free Phone Quote
Although tackling a bed bug problem can seem like a daunting task, it doesn't have to be! With our free quote, we will review your treatment options and leave you with no surprises.
Affordable Treatment Options
We want to make sure our bed bug service is affordable, so we partnered with a third-party financial company. We can offer payment options that fit your budget –subject to credit approval. Call today to learn more.
Frequently Asked Questions
Request Your Inspection Today
Complete the form below to schedule your no obligation inspection.